As I have mentioned before Molly is really dying to learn to read proficiently. She is constantly asking me to help her with reading and writing. So, when the opportunity came along to review a 3-D adventure computer program for learning how to read we were more than happy to give it a shot.
Ooka Island
is designed for pre-K through 2nd graders who are developing their reading skills.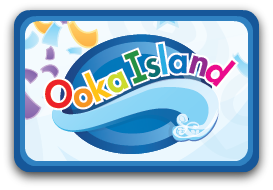 "The Ooka Method combines phonological development and language-rich text with comprehension activities so that children have the opporunity to achieve effortless reading."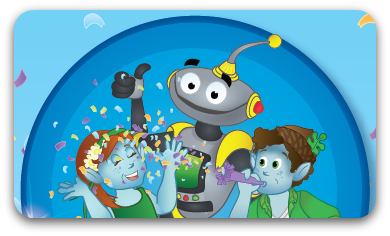 When your child signs in to
Ooka Island
for the first time they will create an avatar that will then help them around the island, along with "Zobot". In each lesson your child will go through various activities teaching new sounds. The first couple of sounds were just basic letter sounds but then they very quickly moved in to special sounds, such as "sh" "ee" and "oo". I found that interesting and wasn't sure if that was the best thing for Molly. Afterall, everyone else learns the 26 basic letter sounds first and then moves on to the special sounds and various phonograms. However, Molly loved it, because it helped her to read even more words more quickly. For Molly she knows her letter sounds already so to jump right in and learn a few other sounds worked for her.
The activities are carefully planned to teach many different reading skills in one session. In each session the student works through the following activities.
The Cave of Sounds: Auditory recognition of sounds, letter sound correspondence, identifying initial and final consonant sounds
Popcorn Library: Reading Comprehension and fluency skills
Alphabet Mountain: Identifying and sequencing upper and lower case letters
Bubbly Trubbly: letter-sound correspondence
The Cake Factory: Letter-sound correspondence, segmenting, blending and decoding
Submarine Listening: Identifying vowels in initial, middle, and final positions
Word Ball: Auditory discrimination between syllables and words, decoding
Clumsy-Wacky Moving Company: Blending onset and rime, Blending sounds into words, Rhyming
After 20 minutes of guided play the student is then given 8 minutes of free play in the "Pencil Playground."
Molly really enjoyed all of the activities as well as the free play in "Pencil Playground". Since she is only 4 I did need to be close by for the first few sessions to make sure she understood how everything worked, but after that she was great to play on her own. She would play for as long as I let her and asked for
"Ooka Island"
daily. It has been a great tool for her as well as a great way for her to work on even more reading skills when I can't be working directly with her. Ooka Island makes learning to read fun.
You can get a subscription to Ooka Island for the prices listed below:
They are currently running a special for 30% off the monthly subscription.

Ooka Island
also offers corresponding books that would work great with the computer program. You can take a look at all they have to offer
here
.
You can take a look at what other Crew Members have to say
here
.
Disclosure-We were given a subscription to Ooka Island for review purposes. All opinions expressed are my own honest opinion. No other compensation was given for this review.