Have you ever heard the saying "Junk expands to fill all available space". Well, that saying is so true in this house!
When we first built and moved in to our home we had no kids and everything had a place. This was still true when our first son came along and somewhat true when the second came along. When we started homeschooling all that changed, and then we added a third child and it got to the point where nothing had a place! Well, my motto for this summer is "a place for everything and everything in it's place!". I have worked through most of the main level of our home and am trying to ake sure it stays organized as I work through the upstairs. Our upstairs is simply a loft area which is my husbands office and then a room that used to be our schoolroom but in the last year has turned in to our storage room for schoolstuff, and thus it has turned in to a COMPLETE disaster:
Our plan is to move Steve's office in to this space. Currently he is in the loft which is directly above, and open to, the living room. Since Steve works from home quite often this arrangement means that I have to attempt to keep the kids quiet when we are in the house! Quiet with a 4, 5 and 9 year old just doesn't happen. Plus, the loft area is not sufficiently cooled so it gets really hot up there in the summer. So, the loft space currently is a disaster as well: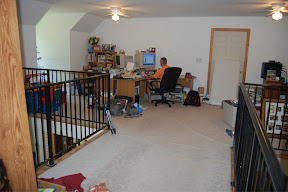 As you can see, we have our work cut out for us to switch the school storage area to the loft and move Steve's office in to a air-conditioned room with a door that can be closed to block out the noise.
Today my goal was to empty the school storage area so Steve will actually go in there to wire what he needs for his office. He is NOT as excited about this project as I am. He knows it is a better setup and that he will like it in the end but he knows that it means a lot of work for him.
Paul is at a friends house today so I sat the two little ones down with lots of paper, crayons, markers, glue, and scissors and let them display their creativity and that gave me some free time to get busy!
After a couple of hours, 6 bags of garbage, and a new pile in the loft area that will be sorted through later I have a cleaned out office for Steve to wire and move in to!
Yes, you can see the duct work because we planned to do that later (4 years ago) and it never happened but the school table covered it when we had school in there and now Steve's desk will cover it and he will have air right at his feet. He will probably, eventually, repaint the sky blue walls that have clouds and airplanes all over them, but for now it works! We are not people who stress over things like that and we do t really have the extra money or time to go re-decorating an office that no one but us sees. One day it will get done--maybe.
So, as soon as he gets his desk and myriad computers out of the loft area I am going to put bookshelves along the wall and start organizing my school stuff, for now it's in a HUGE pile in the corner. I am also hoping to make a "book nook" for each of the kids with a bean bag and reading lamps so they all have their own special place to read. I have always wanted a "library" of sorts so that is what I am working towards! I will keep you all posted on how that goes. But, for now I am so excited to have emptied the room and hopefully Steve can get moved in there by this weekend!
- Posted using BlogPress from my iPad