It was a long year filled with so many challenges and even more victories over those challenges! I am so pleased to say that my amazing, sweet, Zachary completed his Kindergarten year! He is now a FIRST GRADER! I really can't believe it! He worked so hard! There were many tears (mostly Mommy's), but the smiles and happy hearts outweighed the tears in the end and we have so many wonderful memories of his first official year of homeschooling.
Last week we hosted a small graduation ceremony and celebration at our house for him, as well as the other two kiddos, to show off some of the things they learned this year. Zach started by walking down the stairs in his cap and gown and showing everyone how he has learned to count by 5's and 10's, how to tell time, addition facts, letter sounds as well as special sounds, and he read everyone a story. He also quoted a Bible verse.

He and Molly also sang the books of the New Testament together.



Paul showed off a couple things he learned and then they all sang their favorite song "God Made Dinosaurs, too"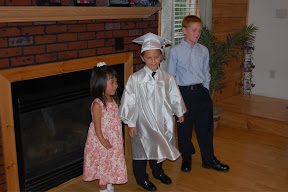 The kids posed for a couple pics with grandparents.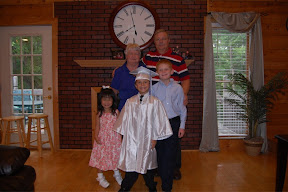 And a pic of just Steve's parents and our special graduate.



And a picture with all the kids and their "Nanny" (my Mom).



And of course no celebration is complete without cake...


It was only with God's help that we made it through this year! As I said, in the end the happy moments outweighed the challenges, but somedays I wasn't so sure!
I am so pleased with how hard Zach worked and how hard he played. He learned so many skills this year, the biggest one being reading very well. However, he definitely taught me a lot more than I taught him this year. Some of the things he taught me (or at least reinforced in my mind) were:
- Play really is a child's work
- Learning through play and everyday experiences is the best way to learn.
- Food makes a HUGE difference in how our bodies and brains work!
- Every child is different and learns differently.
- Some things you just have to work harder for.
- Some days it's ok to say we are done before we finished what I had scheduled.
- At age 5 kids just need to PLAY a lot. The learning will come.
- It's good to call school off sometimes...we all need a break.
- Prayer works!!!!!
I really knew a lot of these things already but he really made me live by these ideas this year. I think this was a growing year for me and our homeschool. I can't wait to see what God has in store for our family and homeschool next year!
Congrats to Zach! Mommy and Daddy are so pleased!
- Posted using BlogPress from my iPad