I am a few days late, but better late than never! This weeks letter is "D", and in our home:
"D" is for DISASTER!
I can't believe I am actually going to put these pictures on my blog for the whole world to see (ok, so maybe not the whole world, but still...).
Our home is "lived in". We work, school, play and live in our home! So, at the end of our day it is a true DISASTER!
There are school related items all over the table in the breakfast nook turned school room:



There are piles of dishes to be done:



There are books on every surface in the house:



There are piles of "stuff" everywhere:



But most importantly, there are three happy, healthy kiddos:



(This picture is a couple months old)
So now I must go put those three kiddos to bed and get busy cleaning the disaster that is left from the days fun!
The kids do have chores, and they do help out. But, there's simply not enough time in the day sometimes to get all the school books put away, dishes done, and "stuff" picked up! There is always a frog to be found outside, a treasure hunt to go on, a tent to be made, or some other adventure waiting for us. Cleaning can wait until they are in bed, or even until the weekend, next week, next month, next year, or when they are grown (which seems to be coming way too fast).
I am happy living this life, even if
"D" is for DISASTER!
Thanks Marcy for this great meme!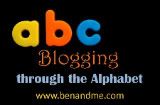 Posted using BlogPress from my iPad