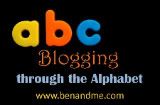 A blogging friend of mine over at "
Ben and Me
" is doing a "Blogging through the Alphabet" meme and I am going to try and join in. I am horrible at keeping up with memes. But I am going to try. So this week is the letter "A".
"A" is for ADOPTION
Growing up I had plans of having 4 kids. I never dreamed of adoption! When my now husband and I met we discussed kids and he was fine with the plan for 4 kids. We did discuss possibly adopting a little girl from China after we had a few kids of our "own"! Boy, did God have other plans!
I am so thankful that God did have other, better plans, for our life! Our first son, Paul, was a private adoption, we weren't really even thinking about adoption. We were "taking a break" from the endless fertility treatments that kept failing. The doctors kept telling us they had no idea why we couldn't get pregnant. We now know why...God had better plans! Isn't it amazing how God works things out. We think he's just saying "no" and in actuality he's just saying "wait, I have it all under control if you will just WAIT!".
Paul, was a true miracle and we are eternally grateful to his birthparents! They made an incredibly selfless decision and chose what was best for the child, not what was easiest! We were able to be in the delivery room when Paul was born and were even the first to hold him! This was the plan God had for us!
Paul at 2 months old (we didn't have a digital camera before that!)
And my "cool kid" now...at 10 years old...Wow how the time has flown!
A few years later we knew we wanted Paul to have a sibling. We thought we wanted a girl. Again, God had other plans! God gave us our second miracle, another son, through a wonderful agency in Kansas. We held Zachary in our arms for the first time when he was just 24 hours old! I don't want to go in to all the personal details (that's his story to tell if he chooses when he's older) but he is truly a miracle as well. We are also forever thankful to his birthparents for the decisions they made to place Zachary in our family!
Zach at just a few days old. I have some better pics, but I can't seem to find them...
Zach just a couple of weeks ago at 6 1/2 years old...
Like I mentioned before we had already discussed adopting from China once we had children of our "own"....I use that term because that's the term we used then. Now I realize that Paul and Zach are our own children! The correct term is "biological children". Well, God liked the idea of a child from China....finally a plan that we agreed on from the beginning.
We started the process of adopting from China and at that time the wait was a couple of years long. The miracles in this story are way too numerous to tell, but God worked it all out! You can read more about this story at our old blog,
Waiting For Molly!
". Long story, short, within 10 months of completing our paperwork Molly was in our arms! She was 11 months old and incredibly healthy! We will never know who her birthparents are but we are forever in their debt for blessing us with this wonderful child.
Our first pics of Molly, she was about 4 months old in this picture
And here she is skiing like a "pro" at 4 1/2 years old
We can't believe how blessed we have been through ADOPTION! We can't believe that three sets of birthparents made such difficult decisions to find better lives for their children, and God chose us to be these three crazy kids' parents! We are continuously in awe of how God has pulled our family together! It is not what we had planned, but it was His plan all along! As for the 4 kids Steve and I had settled on, well, God seems to think three is enough, and I tend to agree!
"A" is for ADOPTION